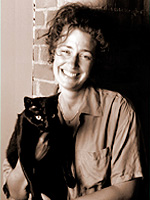 Dr. Cathy Lund
Dr. Cathy Lund shares her home with her husband, Dr. Peter Karczmar (who is also a confirmed cat lover!), and their three cats: Simon, Miguel and Leroy. She has been a Providence resident since 1988 and is a 1986 graduate of Auburn University College of Veterinary Medicine. Dr. Lund completed an internship at The Cat Practice, in New York City, where she realized that being a cat-specialized veterinarian was "purr-fect" for her. City Kitty is the end result of many years of planning and anticipation. It is her sincere hope that you are as delighted with the clinic and its services as she is.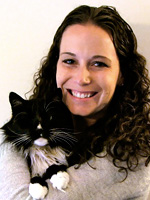 Dr. Sarah Mercurio
Dr. Sarah Mercurio is a feline-fanatic! She has been at City Kitty since 2009. Prior to joining City Kitty she worked at a feline practice in the Los Angeles area. She received her DVM degree from the University of Minnesota, and always knew that she wanted to work exclusively with cats (and their staff). When she's not at City Kitty, Dr. Mercurio loves spending time with her husband and 2 daughters, their 2 cats; William and Thomas, 22 chickens and 6 bee hives. Dr. Mercurio's favorite part about cats is their long toe fur!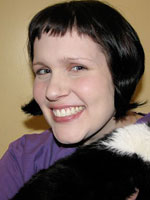 Kathleen Darling, CVT
Kathleen was conceived in the blizzard of '78, and was born 9 months later in New London, CT. Kathleen is the youngest of 5 children. After graduating from The University of Connecticut in 2000, Kathleen became a veterinary technician and joined City Kitty in the summer of 2001. She became a Certified Veterinary Technician in 2006. Kathleen enjoys going to the beach, walking dogs at the Providence Animal Rescue League, spending time with her family, and all things Johnny Cash. She resides with her husband, Jadson, and two cats, Laddy and Zaius.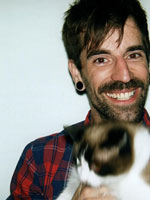 Lance Morosini
Lance has been with City Kitty since 2003. A lifelong animal lover, Lance has spent many years advocating for the welfare of all animals. He brings that compassion to City Kitty and makes you and your cats feel comfortable at the clinic. He has two 12 year old cats named Steven and Jeffrey.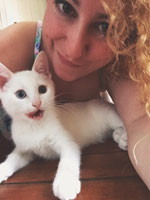 Janeen Danenberg
Janeen Danenberg has been a part of City Kitty since 2009. She is a recent college graduate with a Bachelor of Science in Pre-Veterinary Medicine and a minor in Biology. Janeen aspires to become a companion animal veterinarian. She is a native Rhode Islander, currently living in Newport. Janeen has 3 handsome cats named Easton, Mr. Bojangles, and Monchichi. She also has a ball python named Lady.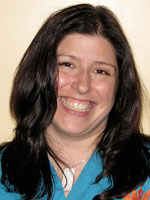 Michelle Weathered
Michelle was recruited to the City Kitty team in 2006 when she rescued a stray cat! She began her love affair with animals when she lived above a veterinary hospital 15 years ago. Michelle owns the best salon in all of Rhode Island and keeps the City Kitty staff looking their best. In her spare time she reads scary novels, and goes for long bike rides or walks along the bike trail. Michelle is a regular Julia Child, but enjoys eating her creations even more. She lives with her husband, Paul, and their hairy children, Emmett, Noodles, Tigger and Q-tip. The cats have a pet parakeet, Carol.