Our cats are parts of our lives—they are our family and our beloved companions, and they give us hope and comfort and serenity and peace.
In the face of this love, what is crueler than the loss of that relationship?
What did your cat mean to you? What did he or she do that made you smile and made you laugh? What do you miss about your cat? And how are you going through life without that special presence?
At City Kitty, we understand what our cats give us–we know the ways they mark our hearts, and we know that the grief and sorrow we feel when we lose them is real and can be devastating. Here is a space to share what made your cat unique, and let all of us see how that relationship changed your life for the better.
Please upload your cat's tribute here:
---
In Loving Memory
Toothless
"Perfect Toothless", as the loving City-Kitty staff called her, was adopted from a rescue event in Washington, PA, in 2004. Her bright yellow eyes and outgoing personality charmed me immediately – it was love at first sight. She was always a soft, affectionate and proud kitty; she balanced her cuteness with a huge and demanding personality that filled every room and made her the implicit queen of the house, blissfully ruling over us and a couple of german shepherds for almost 17 years. From taking down our Christmas trees as a kitten to spending every night with her little body curled up on my pillow, she was a constant presence that made my life fuller and happier. I will forever miss her morning meows demanding food that she would then not touch until much later, her purrs and chitters, her love for catnip toys and kitty grass and the best of all, those times when she would ask for affection and give a headbop or a kiss, purring contentedly while being with me. Toothie, wherever you are, there is a void in our hearts in your shape.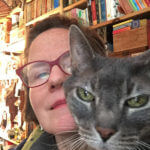 Skippy
Skippy Jenkins McGhee was a true friend. She came into my life as a stray, frightened kitten and stayed by my side for nearly 18 years. A snuggler, a sweetheart, a trouper till the bitter end, she filled my life with laughter and joy. She rests peacefully in the Skippy garden, wrapped in her favorite Irish wool blanket, under the rhododendrons, watched over by her squirrel friends.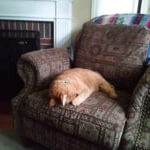 Jack
Jack was with us for four years; we adopted him from the RISPCA at the age of 10. An older boy, and a true joy in our family. Jack was sweet and friendly, and loved being with people; even toward the end when he had trouble moving, he would follow us from room to room. And he had the thickest, fluffiest fur – which also meant that Jack was not a lover of warm sunny places. This photo shows one of his funniest sleeping positions…very much a nap-attack-Garfield kind of pose. We are so grateful to have had Jack for part of his life. Sleep well, Jack-a-doodle-do.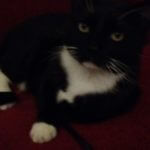 Tito
Tito was one of the best friends I will ever have. He touched my heart and soul in a way I never knew possible. I will never forget bumping noses with him and how he would curl into a ball on my lap and rest blissfully while I rubbed his neck. I still tell him that I love him and hope that he can hear me somewhere. I always wondered what stories he might tell me if he could talk; what adventures led him to the rescue where I found him. I like to think that he succeeded in finding a loving home with me; that his objective was fulfilled. Thank you Drs. Palmer and Lund, and Lance for your compassion, guidance, and concern for Tito.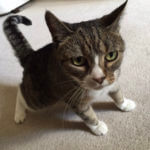 Benzy
I will never forget the day I found Benzy hiding as a newborn underneath my dads car in 2002. She turned our life upside down in such positive ways. My mom trained her to somehow understand and learn Greek ( no lie ha) and we all showered her with love. She was our first family pet and so dear to us. As a kitten she was always running into mischievous things to do around the house and up until yesterday seemed to always loved plant water (even though we had a million water bowls and fountains around the house). Benzy loved her pets on her head, and especially loved when we would pet the bridge of her nose right between her beautiful green eyes. Sadly, we were told some very sad news about our little peanut Benzy this month. She was diagnosed with cancer and really battled through the end. Benzy was a very tough girl and we feel blessed to have had the opportunity to be by her side in this last chapter of her life. She had good and bad days but never stopped her head rubs and purrs. It breaks our hearts and it feels unreal that she is gone and will be dearly missed by the Foussekis Family and City Kitty family. We thank you for all the support during these challenging times and appreciate all the love that was given to Benzy. We know she was placed in very good hands at City Kitty.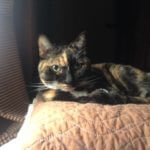 Busy
Busy had an aloof grace and sincere yet cautious affection that made her presence feel like a visit from a celebrity. Fragile yet bold, adventurous yet home-bound, she was the enigma wrapped in a riddle we've all heard about. A tap of her paw meant the world, a look across the room stabbed your heart. It's been a while since she's been gone but truly she was a special cat.
Olive
Miss Olive peacefully left us on Saturday morning to cross the rainbow bridge. Our hearts are heavy with sadness but also relief for the end of her suffering. We had an incredible journey together and I look back on the past nine years with her as my bestie and ally as an invaluable gift. Goodbye, Sweet Girl.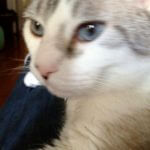 Sterling
Sterling was a rescue from Long Beach, CA who was with me for almost 15 years. He had sapphire blue eyes and a heart of gold. When the two older cats I had already when I adopted Sterling got sick, he never left their sides. He loved every living being that he came in contact with, and would sit with whoever needed comforting. A more beautiful, compassionate soul, I have never met. Always in my heart, my darling Sterls.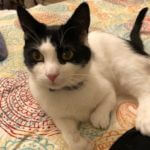 Eddie
With his funky shaped arms, huge beans, pink nose, and winter fluff, Eddie was the greatest! A total cuddle-bug, we rescued him from Providence Animal Control just 4 short years ago (his name at that time was "South Paw") and he instantly became part of the family. It's been two weeks of uncertainty, and we were totally unprepared but said our teary-eyed good-byes. He knows we all — especially Alicia — loved him dearly. RIP, Ed.
Maggie Mae
She had a pretty face, beautiful fur, with presence and personality to spare. She'd let you know when she wanted her belly rubbed, or her head scratched, and definitely when she wanted a treat (or two or three or four…). She liked to scratch the screen door, remind anyone (person or animal) who's house it was, sit on people's coats and then hiss when they tried to take them back. She also liked to snuggle and purr endlessly. She dealt with any health or physical challenges like a tough little champ. She was sweet and spicy, and full of love. She was Maggie Mae…forever our girl.